Channel Manager – Factors to be considered when choosing a Channel Manager
May 31, 2021 Administrator Distribution Channel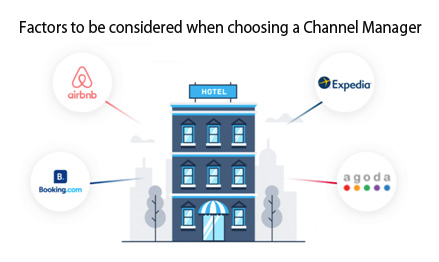 There are many Channel Manager systems / brands available in the market. All claim to have the best features and functions, but here are some tips on which Channel Manager is the right one for you and your property.

Before we begin!
You will need to know yourself first! Here are some questions that you need to answer before we proceed…. This is to help evaluate if you really need to have a Channel Manager for your property?

Channel Manager?


Do you plan or currently sell your rooms online?
Is online business already or expected to be the main source of business for your property?
Is your property small or large? (see also article about "Does my property need a Channel Manager?")
If you are certain that you will need one, here are the key factors that need to be considered when choosing a Channel Manager that is right for you?
User-friendly
The interface and design of the system must be easy to use and fits in all screen sizes, allowing you to be able to perform your tasks while you are travelling.
Central Poll Inventory
One of the key benefits in using a Channel Manager is to manage inventory, particularly if you are a small property and has limited room inventory. Central Poll Inventory allows you to sell your rooms until the very last units – even with many rate plans associated with it.
Price-friendly
Most of Channel Manager systems / brands calculate their fees based on property sizes. Even you have 300 rooms but you would only sell 50 rooms online, they will charge you their 300-room price range. Very few channel manager systems / brands will allow flexible pricing. Some brands that are very popular may charge for a set up fees, while some can provide this FREE of Charge and will have staff to guide you on rate mapping / paring to ensure that your property will run smoothly with no errors. Remember, price can be an important factor as this will contribute to your property's fixed expenses.
Customer Support
Always look for companies that can provide you with support when you need. This does not mean a Q&A page for you to read and try for yourself, but more of a human support that you can call or chat with when you run into problems. Better, if the customer support can speak your language or has a local person standby.
Instant Updates with Accuracy
Of course, if your Channel Manager can perform instant updates on both inventories and rates that would be ideal. Quite often, there are some uncontrollable factors such as the speed of the internet at the time, or the server of the OTAs, or in deed the host of the Channel Manager itself. Your Channel Manager should be able to provide such reports informing of updating progress as well as any errors it has found while performing the updating tasks. The most acceptable updating time should not be more than 5 minutes to complete all your rates / inventories uploads to all connected channels. The other concern would be the updating interval, which will allow for reconciliation of your room availability / status as well as price when there are new bookings / amendments or cancellations taken place.
Connected Channels
It is not completely necessary to consider a Channel Manager that can connect to 100+ channels as your top priority. Rather, you should look closely if your already connected channels are there on the list? You should also consider if you would like to mix B2B with B2C channels here. Again, this depends on your strategies. But the risk of including B2B channels on this will in a way open up a chance for your property to display rate disparity on B2C if your B2B agents feed lower rates to your B2C agents when you perform dynamic pricing. It might be better to consider pure B2C alone in order for you to have full control on your final selling rates.
Other Features / Functions incl. Reports
This will very much depend on your property's sizes and requirements. Smaller properties may not need full features and functions like larger properties, while small properties may want to consider a Channel Manager that can integrate to its PMS, so that to save time for the staff to re-key the booking details into PMS. Larger properties may need a Channel Manager that provides important statistical reports that can help them make an informed decision on their prices, promotions.
In Summary:
These tips are there to provide you with some basics for you to choose the right Channel Manager for your property. It is worth asking if they could offer a free trial period so that you could try it first. This will provide you with first-hand experience on both their system functions and their customer service and support.
And, remember, by opting for Channel Manager does not mean your property will suddenly receive more bookings or it can give you 2 times more of production. Many Channel Manager brands / companies are trying to heavily advertise this point unfortunately. In reality, it very much depends on your property (the 4Ps), your marketing strategies and your experience practicing hotel revenue management. Channel Manager is only there to help facilitate your property to perform your rates / inventory updates timely and accurately.