Direct Hotel Online Bookings VS OTAs: A guide to make it work best for your property and gain a fair share for your business.
May 31, 2021 Administrator Online Marketing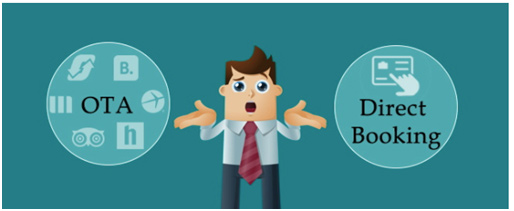 It is still a myth for everyone on how to increase more direct hotel bookings and to get your prospective guests or better existing guests to bypass Online Travel Agents (OTAs). Many branded properties / major hotel chains have been striving hard in a hope to achieve more customers, more loyalty and a more profitable business altogether. But, have they achieved?

In this blog, we will highlight various key different data points to understand what OTAs are doing to thrive for their business, whether the major hotel chains could level up the battle?, and will finish by suggesting some other initiatives that should be undertaken by hotels in order to gain a fair share for their business.


What OTAs are up to and what's behind their continued success?
The hotels' direct booking marketing campaigns do not seem to have slowed down OTAs. Several elements underline OTA's strengths

Supply / Inventory



| | |
| --- | --- |
| OTAs | Major Hotel Chains |
| Booking.com: 1,190,000 properties | Marriott Intl: 5,700 properties |
| Expedia.com: 500,000 properties | Hilton: 5,100 properties |


Obviously, the number of properties representing on an OTA site outnumber what are listed on a major hotel chain website. There is a higher likelihood of a customer finding the right product in an OTA than in a hotel website. Forget about an independent hotel site, which is a standalone with only one property listed. This translates into a higher conversion rate (due to much more variety to fit all budgets) and an ability to invest profitably on Google and other customer acquisition partner sites.
Unmatched online marketing budgets
OTAs like Expedia and Priceline invested around USD 3 – 5 billions each year in their online marketing budget (2017). Major hotel chains although are prepared to spend on marketing, cannot compete at this scale. We can forget about small and independent properties that would not make a financial sense to consider a budget for this marketing effort.

In Search Engine Marketing, which includes google ads / facebook ads or any kinds of online ads, scale and range of campaigns matter a lot. In non-branded search (small and independent hotels), OTAs will always dominate suppliers because of their larger inventory and larger scale campaigns which drive critical mass. Even with branded hotels (hotel chains) – search with a hotel name, OTAs also have a very prominent position (due to theirs higher spend on bidding).

Another important customer acquisition channel is metasearch. Here too, OTAs dominate. The vast majority of hotel metasearch clicks are going to OTAs, not direct to the hotels.




Source: Phocuswright

From the info graphic above, metasearch like Google Hotel Ads / Tripadvisor
Hotel offers higher chances for hotels to allocate some budgets on advertising.





OTAs are best in class online marketers. They have the talent, track record, scale, technology, critical mass and budgets to dominate in metasearch, and any other relevant online marketing channel. It is therefore very difficult for hotels to compete effectively against OTAs in online customer acquisition.
Popularity
With unmatched marketing budgets spent on various online customer acquisition sites / channels by OTAs, these have brought them tremendous scale of popularity (number of visits by prospective guests). For example booking.com had 1,137 million visits (combined desktop & mobile). Marriott Intl (the world's largest hotel chain) had merely 97 million visits or about 8.5% of booking.com's.

It's undeniable that nowadays travellers opt to use their favourite OTAs for hotel / accommodation searches instead of using Google. They will turn to Google when they need to search a particular hotel for further information or for price comparison.
Product Offerings / Complexity
It is pretty common now to find from any major OTAs to include various accommodation types, i.e. hotels, hostels, apartments, rental properties, villas, shared accommodations, etc. Or, you will find OTAs offering packages, which include greater discounts when you book flights + accommodations. This creates an environment where it brings more value, i.e. aggregate product and offer it under one roof and with a touch of great user experience.

What about Direct Hotel bookings? Can major hotel chains level up the battle? Let's take a look at a few available stats / indicators that we have found.

Hotel Online Bookings: OTAs vs Hotels
If the hotel's marketing push to get customers to book direct was working, we would see the shift away from OTAs in favour of hotels. But this is not the case!





In the US, not only didn't OTAs lose share to hotels, but OTAs accelerated their share growth and surpassed hotels in hotel online gross bookings in 2016 and 2017.

Depending on the region, OTAs drive anywhere between 50% to 72% of online hotel bookings, according to Phocuswright.

Share of hotel online bookings:



| | | |
| --- | --- | --- |
| Region | OTAs | Hotels Direct |
| USA: | >50% | <50% |
| Europe: | 69% | 31% |
| Latin America: | 69% | 31% |
| APAC: | 72% | 28% |



Today, the OTA's share is growing!
Search Popularity Index: Hotels vs OTAs
If the hotel's aggressive campaigns on Search Engine Marketing in an effort to generate more direct bookings, this should reflect on an increase in google searches. (Google remains the common entry point for direct bookings). But here is what is happening:





Despite great efforts by branded hotels / major chain hotels, we see relatively higher search numbers on OTAs when compare to branded hotels.

Branded searches in the last 3 years do not reflect a growing interest from customers. In contrary, there is a substantial growth for both booking.com and hotels.com (Expedia) during the entire period.

What initiatives should hotels take in order to gain a fair share for their business?
For the key highlights and reasons explained earlier, it will be tough for hotels to compete head on against OTAs at what OTAs do best: customer acquisition. But, hotels have direct control on guest experience and on earning future customer loyalty. Here are the key initiatives hotels should be considering.



Target selected channels for customer acquisition purposes
We do not recommend your spend on SEO, or Google Adwords – considering the uncomparable budgets OTAs spend. But perhaps your budget can be well spent if you carefully select certain metasearch sites. From our earlier finding, Google Hotel Ads and Tripadvisor through TripConnect could prove to be more financially viable.

Discuss and consult with your Booking Engine supplier to set up your online marketing campaigns that specifically identify your sources of market (guest's countries). This should be evaluated and monitored from time to time. Remember each country will have different holiday periods. If this is exercised efficiently, your budget will be well spent.

Some of the key stats to consider (when doing a budget and KPI for your marketing campaigns)

For Direct Bookings: -

KPI
Cost per click: USD 0.9
Hotel website conversion rate: 1%
If your average booking value is USD 200, this means you have a cost per booking of USD 90.-

The key performance to be achieved is the improvement of conversion rate. The more you have, the cost per booking will be significantly lower.

Google Hotel Ads may have an option for performance base where you only pay per performance. This will bring this to direct comparison with booking via OTAs.
Make it easy to search and book
Here we are looking at both your hotel website design, the information it contains as well as Booking Engine. On your Google Analytics, one of the key indicators that should not be overlooked, and that is the bounced rate. The more bounced rate you have, the less likely your website will generate more conversion.

To get your website visitors to stay as long as possible is the key. This means that your site contents are interesting and help increasing chance of your prospective guests to make a booking with you.

Your Booking Engine should be easy to navigate and is equipped with tools that drive up conversion with smart cross-selling and up-selling.
OTAs as an advertising platform
We have all heard of Billboard effect and this is what this is all about if your property is doing well on their organic listing. This very much depends on your conversion rate on their site and there are several other techniques you could get your property listing higher up on the list.

Alternatively, you could explore advertising opportunities (if your budget allows) with OTAs for better merchandising and positioning.

Nowadays, online travellers do not use search engine to search for hotels. Rather they visit their favourite OTAs and search for information. Once they have shortlisted their places to stay, they will then go to Google to search specifically for the hotel information or for hotel's direct website. Here is where the chance for you to get your direct bookings if your booking engine can connect you to Google Hotel Ads (for meta search).



A Google survey found that, after discovering the hotel in an OTA, 52% of travelers will visit a hotel's website to take a closer look and get more information.

Guest's Appreciation & Customer Loyalty
Whereas the above recommended initiatives are for hotels to try to convert new customers and somewhat competing head on with OTAs, here would be a different approach.

Customer Loyalty looks at generate more direct businesses through repeated bookings from those guests who have actually stayed in your property before.

Hotels have a clear edge over OTAs on the fact that customers spend days / weeks experiencing the hotel and interacting with the hotel staff. Focusing more on building unique brand (service standards) and superior guest experiences seems like a better investment than competing against OTAs in customer acquisition.

"You guys all criticize me for how much I charge you for guests to come to your hotel. I think you're looking at it wrong. Look at us as the cheapest source of referrals that you could imagine. If they come through me, you pay me once, and if they come back to me again and again, shame on you. You should make them a loyal customer"
– Former Expedia CEO Dara Khosrowshahi speaking to hoteliers.

Do not think of a complex loyalty programme. This will not work for you if you are a small / independent hotel. Your rewards should be easy to redeem and allows special privileges / benefits offerings from their first stay.

Hotels should equally strive to earn the loyalty of customers who booked through OTAs. Do not treat them as second class guests.

If you like what we have written, please share it to your friends and colleagues. Or click to subscribe to get new posts straight to your inbox!