Hotel & Hospitality Industry Blogs
Sharing Tips | Latest Trends | Professional Advices
OneHotel.asia brings you the latest trends from the hospitality industry sharing tips, marketing tips, e-commerce insights, and professional advices that give you food for thought.
Channel Manager – Does my hotel accommodation need to use it?
May 31, 2021 Administrator Distribution Channel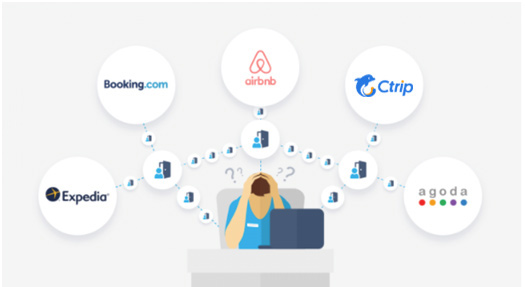 If you are now considering if your property needs to use a Channel Manager, or you are not sure if it can actually help increase sales / revenue for your property, we may have some thoughts for you.

First thing first!
We can differentiate the answers by categorizing the property sizes, i.e. very small, small, medium, large and very large.

If your property is very small to small size – this means 1 room to around 30 rooms, incl. Airbnb accommodation units, or your property has quite a few room types with limited inventory, the answer is "YES". This is a big "YES", why? The reason is pretty simple, because with limited inventory, there is no place to move the guests around in case of overbooking. And, if your main market is all from OTAs, then it is even more useful to have Channel Manager. The problem of overbooking can create much headache and would affect everyone in the loop, the property, the guests and the intermediaries (OTAs). If the situation cannot be remedied, likely the property may get negative reviews from the guests.

For small to medium size properties or 31 - 80 rooms, there is actually more inventory to work on and does not get to the distress level like very small properties but this property size would be looking to achieve not only high occupancy but also better average daily rate. Channel Manager can help with the tedious tasks of adjusting rates to reflect occupancies and forecast. E-commerce / Revenue managers for this property size would also be looking at wider distributions.

For a large property of 80 rooms and more, the inventory is not a real problem here, but it may be looking to have a good mix of B2B and B2C agents. Subject to the markets it has, when applied use of Channel Manager, the property can possibly manage a more complex strategy, incl. managing many rate plans per room category when dealing with different market segmentations, or different promotions for different markets / sites. However, if your property isn't particularly focused on online market, the answer would be "No need", or if your property does not have an experienced E-commerce manager / revenue manager on board, then maybe you probably don't need to use Channel Manager. This is to save costs and you probably have plenty of inventory to work with without getting to the distressed levels so soon and you are not going to be that concerned with online market as you have other markets to work with.

If your property is more than 300 rooms, this is going to be a mix answer between "Yes" and "No". Unless you are a chained property, or you own several properties and would like to manage the online market centrally, then you would probably need a Hotel Channel Manager to manage all channels in one place. But you will probably don't need Channel Manager if your property does not have online market as priority (due to the size, quite often very large properties would need group businesses to fill up, rather than FIT or from online.). And, if you are not looking to manage or share your inventory for your B2B agents with B2C agents, then the need to use Channel Manager would even be more unlikely.

In Summary:
The idea of small hotels will not need a channel manager is not true, particularly for family run properties that the owners / staff are expected to manage multi-tasking, and their main source of business comes from online B2C. You will not have time for such tasks as inventory update. Reservations get cancelled or modified quite often, so it requires additional attention from a person, who is already quite busy with other daily tasks such as check-in / check-out guests or room cleaning after departure. More small hotels that need to compete for online market will need a tool that can make them more visible online from various distribution channels. So, to opt for Channel Manager for these properties does make a lot of sense.

For medium size properties, it very much depends on the strategies and if they want to combine and share inventories with their B2B / B2C agents. Again, strategies can be more complex here with many rate plans / promotions attached to one room type. A good use of Channel Manager can help them get through these and achieve a balance of high occupancy and ADR. The property at this level may also be looking at a more advanced Channel Manager that can offer more than basic features. Analytical and detailed statistics reports are key in making an informed decision in order to.

For large and very large properties, they need to consider if their main source of business is from online or from groups? It might not make much financial sense to use channel manager for open / close allotments. Larger properties or chained properties may consider using channel manager if they would like to manage online business from their central unit (or have a dedicated revenue team to manage all their properties).